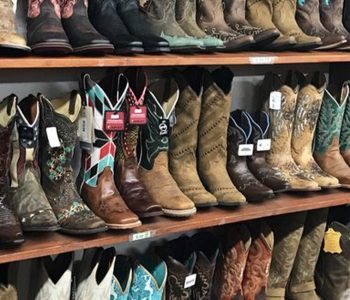 You're on your feet all day—shouldn't your boots be stylish, comfortable and durable? When you shop The Outpost, we promise you'll find your new favorite pair!
From stylizing women's fashion boots, to rugged work boots, to a huge selection of men's boots in Indiana, we invite you to browse our many options. We're certain there's a pair that's right for you just waiting to be discovered.
Our Boot Selection
Whether you're browsing for style or practicality, we've got boots to suit everyone! From rugged, durable men's boots, to fashionable and affordable women's boots in Indiana, our selection includes a full variety of styles, colors, materials and more. Let us know if you have something in mind or just browse our always-growing inventory. We're confident you'll find something that stands out and looks great on you!
Children's boots
Clogging shoes
Men's boots
Women's boots
Work boots
Trusted Name Brands
You get what you pay for when it comes to brand-name apparel. When you're shopping for a pair of new boots, you expect them to be of a high quality. We take pride in bringing you durable, stylish, affordable boots from trusted name brands. From fashion-oriented pairs to rough and ready work boots in Indiana, look to our store for all the following name brands and more.
Ariat International
Corral Boots
Danpost Boots
Double H
Justin
Rocky & Carolina
Smokey Mountain
Twisted X
Find the Right Boot for You
Nothing looks and feels better than the right pair of boots. From work boots to stylish women's cowboy boots, The Outpost offers a huge selection of boots for you to browse. Find a style you like and we'll make sure you leave the store with your size! If you're in Trafalgar, Indianapolis, Anita, or Johnson County, IN, visit our location today or contact us at 317-878-5928 to inquire about our options for work boots, western dress, horse supplies, and much more.